Hi and welcome! Now.. who am I?
My name is Pearl I'm a hobby artist, I create illustrations, costumes and crafts on my free time. Some of the things I often make are digital illustrations, costumes and funny/silly accessories. I live in Sweden and occasionally attend conventions such as Närcon and Nordic FuzzCon. Sometimes I bring and sell my crafts and arts in their Artist Alley and Dealer's den.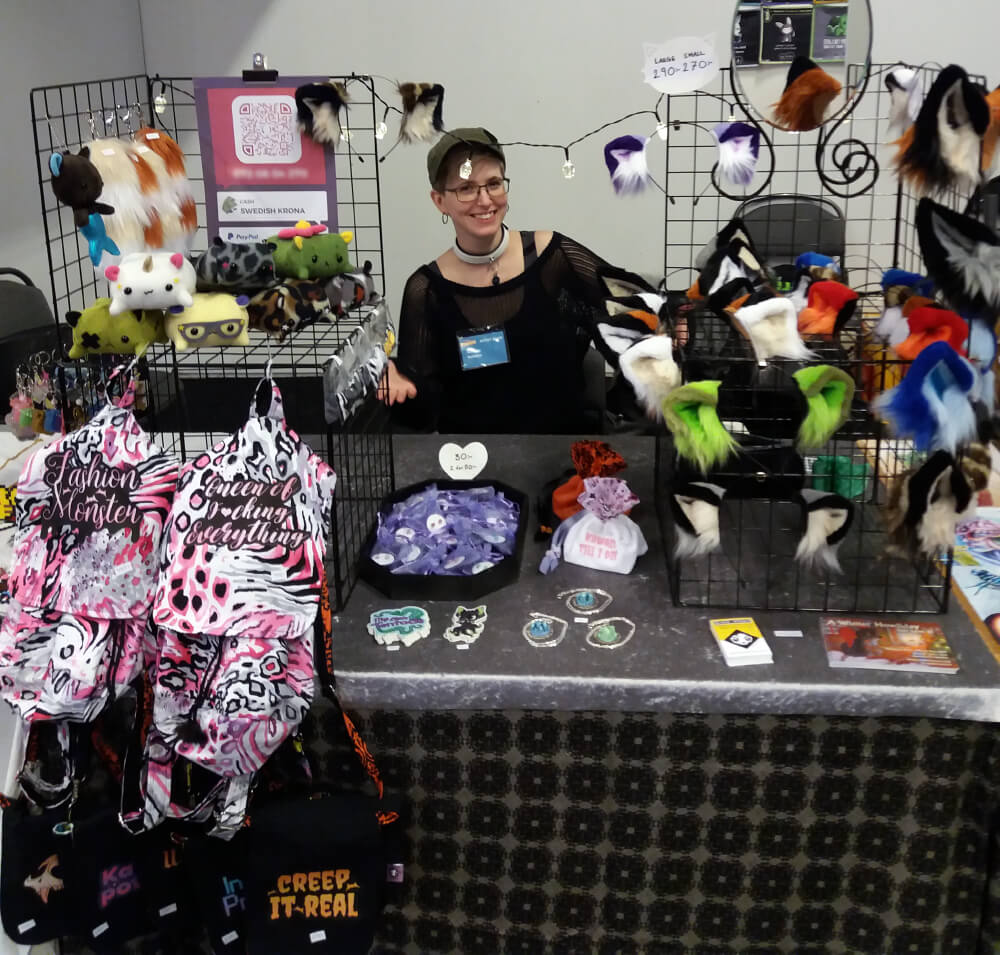 My main occupation is working as a web designer to get some gold coins in my pocket. I love doing it and I've made my website and graphic profile myself.
When I'm not working I'm either drawing, sewing, drinking coffee (way to much) or watching Netflix.
I love movies and tv-series. Most of the time it's either sci-fi, fantasy or comedy I watch. Many of them give me inspiration for my art and crafts.
The picture is of me and my Artist Alley table at ComicCon Stockholm 2018
Where can you see my art and crafts?
For digital art and progress pictures check out my Facebook page or DeviantArt gallery. For T-shirts, hoodies, leggings, and more you can check out my Redbubble or Society6 shops.
What languages do I speak?
I was born in Sweden so I speak swedish fluently but I also understand and speak english pretty well.
My Fursona
My main fursona is a gray european shorthair cat named Pearl (yes, just like me). I've made the fursuit myself.

I also have a Skullzter fursona named Charna.
What's a "Skullzter"?
Skullzters are my own fantasy species. I created them when I wanted a fictonal character for myself. I have made a fursuit of Charna too. Read more Skullzter info here.